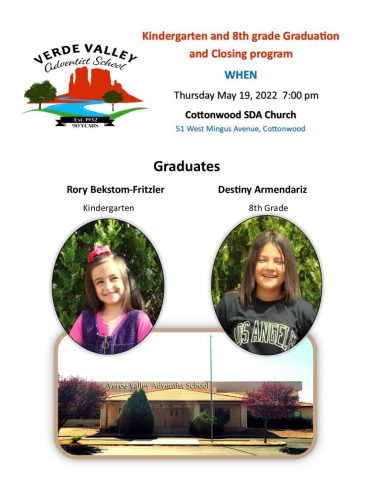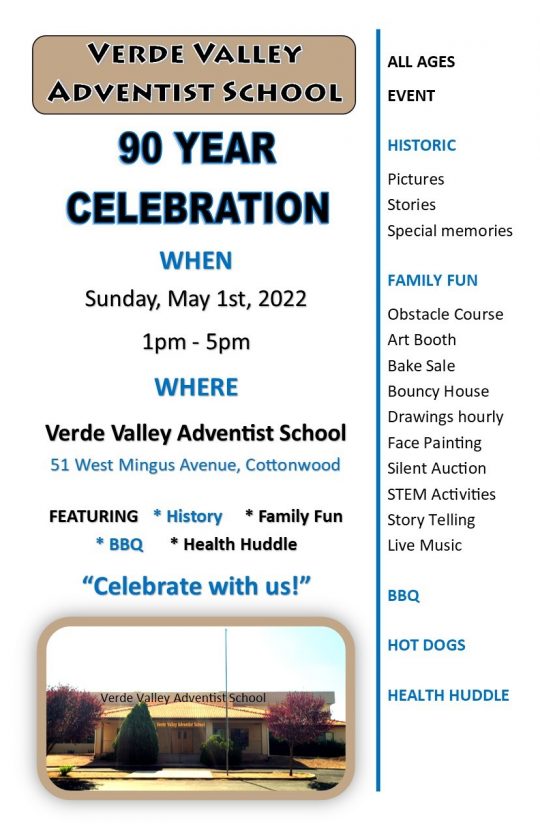 VERDE VALLEY ADVENTIST SCHOOL CELEBRATES
                                           90 YEARS
VVAS is pleased to announce 90 years of operation. A celebration is planned Sunday, May 1. All are welcome to attend 1 to 5 pm.

The Verde Valley Adventist School started in 1932 in a wooden one room structure near Main and Cherry Streets in Cottonwood. In the early 1950's the school moved to 10th Street and recently moved to the present location on the corner of Mingus and Willard Streets.

The celebration will include stories and pictures of the school and Family Fun events. Free Admission to Art Booths, Bouncy House, Face Painting, Story Telling, Health Ministries and live music.  There will be a small fee for Silent Auction, Drawings, Bake Sale, and the barbeque.  Come and bring a friend.
All are invited to come for a fun celebration. Verde Valley Adventist School is located at 51 Mingus Avenue, (Corner Mingus and Willard), Cottonwood, Arizona.
Phone 928 634 7322. Our teacher, Cheri Jenkins will be available to give information about the school.